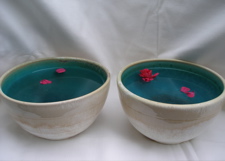 Turquoise Bowls
Dimensions: 6 X 6 inches


*click on image to enlarge*


Other shots
Single Bowl

These matching white stoneware bowls have been high fired up to Cone 10 (2300 F). They are dishwasher, microwave, oven safe. It is best to not store food in this bowl. They were made in 2006.
Detail

A set of 6 were made, 4 of them were sold at the Caribbean Artisan Network arts and crafts fair on Tortola, BVI.
Detail

I like the interior color of these bowls because they reflect the intensity of the ocean water that I was surrounded and inspired by on the island of St John.